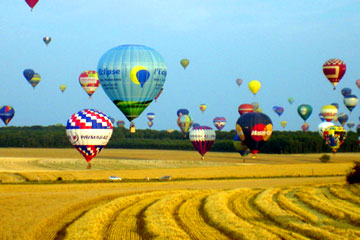 The balloon festival just outside Metz in Eastern France is the biggest festival in Europe. It happens every other year, and attracts pilots from all over the continent, including a large contingent of British balloonists. It is held at a huge disused NATO airbase at Chambley, and attracts many thousands of spectators.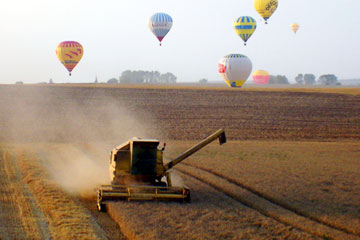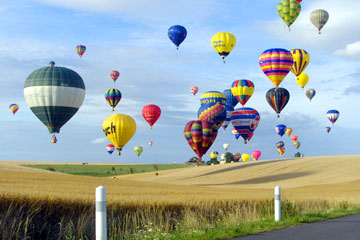 It is an amazing experience to fly with so many other balloons at the same time. The flying is wonderfully relaxing on account of the huge landing fields in rural France. The farmers have either just cut their fields, or are in the process of doing so, and you always receive a warm welcome on the landing field.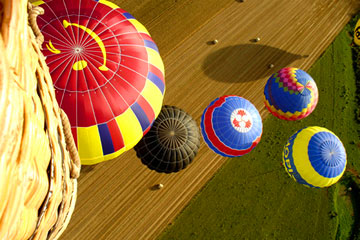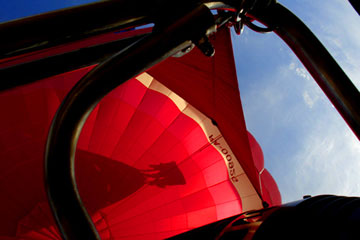 It's a great spot to get some amazing photos, as witnessed by these unusual angles. Our photographer managed to catch balloons beneath him, and also caught this amazing silhouette of a balloon basket floating over the top of us, framed by the evening sun. We often land close to the balloons we have been flying with, and share a bottle of champagne amongst crews. Last year we met a particularly friendly Russian crew from Moscow.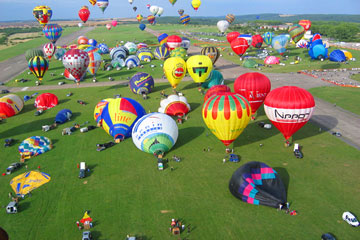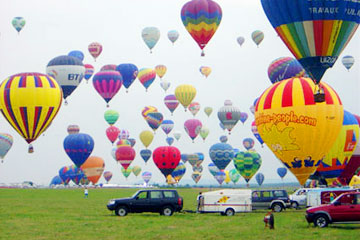 After take-off, the views looking back towards the launch field are spectacular. You get a great impression of the size of the festival by watching the hundred or more balloons waiting to launch behind you. The view from the launch field is pretty spectacular too – sometimes it's difficult to see the sky because there are so many balloons flying. The retrieve crews have their work cut out – once so many balloons are flying together it's often difficult to work out which is the correct balloon to follow!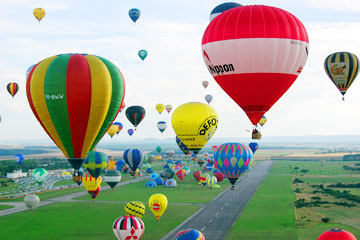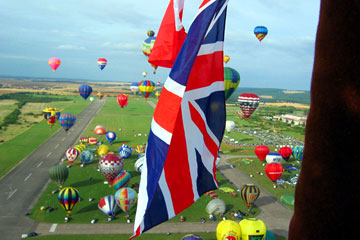 It's good to fly the Union Jack when ballooning overseas. It's not compulsory, but we do like to show our colours. There is usually some friendly rivalry between different nationalities about who can outperform each other in the pilot stakes. Pilots flying the Union Jack tend not to do too badly!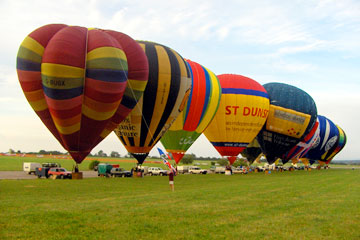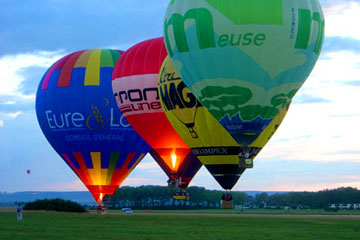 We are members of the local Black Horse Balloon Club, based in Great Missenden to the north of London. All the members of the Club who were out in France participated in a balloon line-up photo. That's us right at the front! Just after the photo was taken we all launched together for a pleasant morning flight over farmhouses and lakes. We were flying a passenger who had never flown before, and she could not believe what an incredible experience it was. She promised to come back soon for another flight – over England! Four French balloons also did a line-up later in the day, and we got this amazing photo of them taking off together.