All our balloon flights will now be facilitated by Virgin Balloon Flights.
And the simplest answer is that Virgin offers an experience that many people describe as one of life's finest moments - an amazing flight in a hot air balloon. See our balloon flights section or the simulated hot air balloon flight for a full description of what a flight in an air balloon involves. We are aware that ballooning is a very special occasion for most people, and therefore we do our utmost to offer only a "first class" service.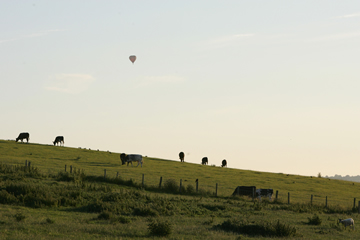 Explore our website to find further information and how much a balloon flight costs, where you can purchase balloon flight gift vouchers on line, delivered to you by e-mail in minutes if you wish or for general information about our hot air balloon rides
'… ballooning appeals because it's languorous and low-tech; it's adventure in an antique mood... What a treat to float across the sky like a slowly forming thought...'
Diane Ackerman, The New York Times
You will have the opportunity to help with the setting up of the balloon, you will be carefully briefed by the pilot and you will enjoy a fantastic flight of around 1 hour. After landing we will present flight certificates and toast the flight with a glass of champagne. Click here to see our flight page.