Hot Air Balloon Flight
Have you ever wondered what it would be like to fly like the birds?
Your Altitude Balloon ride will now take place with Virgin Balloon Flights.
If you are an existing valid voucher holder, please visit the log-in page for more information on how to transfer your voucher to Virgin Balloon Flights.
If you haven't yet got a balloon ride voucher, visit the Virgin Balloon Flights website to purchase, where you can also find an up-to-date list of flight locations.
Floating over the fields Gently lifting off the ground to follow ducks in flight across the sunset? To soar hundreds of feet in the air, floating peacefully above beautiful scenery, in a quiet that allows you to hear the sounds of nature below.
As you float silently above the world, whole new vistas open up. Incredible scenery is brought to you from a completely different angle and a spectacular model world opens up beneath the basket. Familiar landmarks – roads, villages, lakes – take on a completely new perspective from above. And what makes it really special is that it's a sight that many people will never see...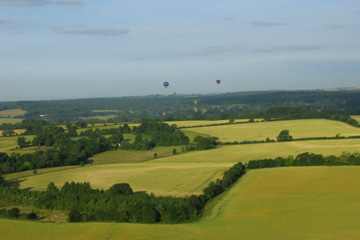 Ballooning is unlike any other form of flight. It is an extraordinary nature experience as you become one with the breeze, feeling no sensation of movement. You have become the wind! A momentary gentle breeze on the cheek means that you have joined a new current of air, heading off in a different direction. The flight feels uninhibited, and the 360 degree views are unlike anything you may have seen before.
Concealed treasures and secret places that cannot be seen from the ground are revealed. You will feel as though you are sitting on top of the world, all from the comfort of a wicker basket. Our flight area is glorious Oxfordshire and Buckinghamshire – one of the most beautiful corners of the country.
We meet up roughly an hour after sunrise or two and a half hours before sunset. Under the expert eyes of your captain, we will assemble the balloon on the launch field, whilst answering any questions you may have about the kit we use or the flight itself. After a detailed briefing from your pilot you will be asked to board the balloon, where you will have time to make yourself comfortable.
Your highly experienced pilot will heat the balloon until it becomes buoyant, and will gently lift off. You will feel the ground slowly falling away from you – a completely unique experience. We will then fly over our flight area for roughly an hour travelling at different heights depending on the windspeed and direction. We aim to fly at treetop level up to about 2500 feet to offer you the widest experience during your flight.
'I shall certainly never forget floating over Waddesdon Manor at 1500ft on a beautiful summer evening!'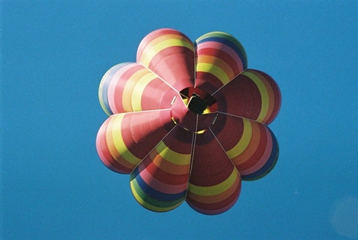 On landing your pilot will debrief you about the flight, the balloon will be packed away and stowed in the trailer, and then there will be ample opportunity to chat with the pilot and crew whilst flight certificates are being signed, and the flight is being toasted with a bottle of finest champagne!
However, words cannot really describe the wonder of a balloon flight – much better to come and see for yourself. We'd love to see you in our basket this summer! Or, to get a better taste for what a flight is like, take our simulated balloon ride.
'The best way of travel, however, if you aren't in any hurry at all, is in a balloon. In a balloon, you can decide only when to start. The rest is left entirely to nature.' William Pene du Bois, 'The Twenty-one Balloons