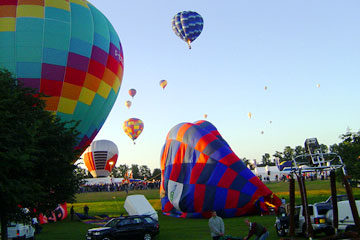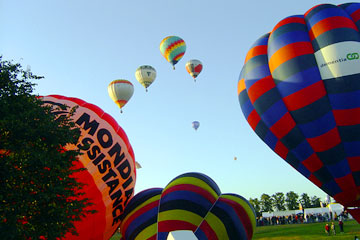 Northampton Balloon Festival is one of the bigger commercial balloon festivals in the UK. Alongside the Bristol Balloon Fiesta, it is one of the best known ballooning events in the country, and attracts tens of thousands of spectators over 3 days. We flew about four slots from Northampton last year, usually flying with 30 or 40 other balloons. These photos are taken during a Saturday morning flight, when a few hundred die-hard fans had turned up at 7.00am to watch the launch.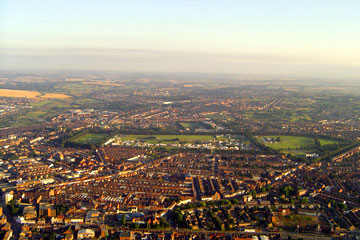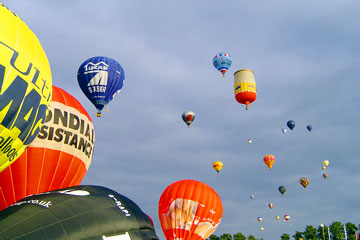 We had stunning views over Northampton, looking back towards the green patch that marks the festival launch site. It was a fantastically clear morning, apart from a layer of haze hanging over the town. We flew south and had a quick wind, so covered a fair amount of distance during our flight. Northampton is famous for its special shapes balloons, and you can see a yoghurt pot taking off on the right!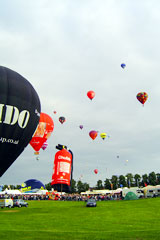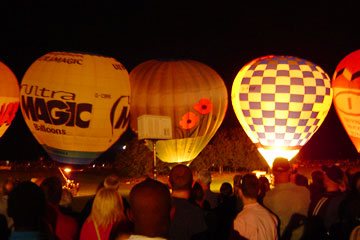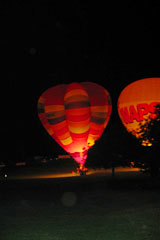 Following an evening flight, we rushed back to the Festival field to take part in a night-glow, where balloons light up in time to music. Each pilot is given a two-way radio with an earpiece, and we were given the name Blue Seven. Every time we hear "Blue" or "Seven" we have to light up the balloon.
Each balloon has its own name, so we light up at different times, putting on a great show for the spectators.
Sometimes, one of the greatest things about ballooning is the waiting! Here we are enjoying being out in nature on a beautiful day, waiting for our retrieve vehicle to come and pick us up. We've had a great flight, we've packed up the balloon, and now we're ready for a glass of celebratory champagne !