Welcome! Altitude Balloons flights will now take place with Virgin Balloon Flights, with years of experience, certified by the Civil Aviation Authority.
Please visit Virgin Balloon Flights website for a full list of locations they fly from, as this may differ from our previous launch sites.
We regularly get fantastic views of Aylesbury and the Vale of Aylesbury from above during our hot air balloon flights from our Buckinghamshire launch sites. County Hall in the centre of Aylesbury is a highly visible landmark during many of our flights, and the views over the town are stunning from a hot air balloon basket.
Aylesbury is the County Town of Buckinghamshire and has some wonderful architecture to see from the air, including the beautiful Market Square in the centre of town. It is also fascinating to see the new development spreading around Aylesbury from our hot air balloons. One of our launch sites for hot air balloon flights is just to the west of Aylesbury.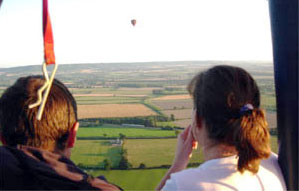 "Christine and I had an absolutely splendid flight which we shall always remember. I found the entire event very intriguing. Both Christine and I are full of admiration for your skill and also that of Lorne and Kristian in enabling us to have such an enjoyable time.
This morning I drove from Chinnor to Aylesbury cutting across our flight path; and that also evoked memories of the flight - as I expect will many of my car drives in the area. Please accept our sincere thanks and please also pass them on to Lorne and Kristian - both for the flight itself and also for the excellent, friendly companionship. With all good wishes"
Ian & Christine Humphries, Aylesbury
Aylesbury has some fascinating history. The name Aylesbury is Anglo-Saxon, but there has been a settlement on the site since 650BC. After the Norman Conquest in 1066, the king claimed Aylesbury for himself, and the town was a Puritan stronghold during the English Civl War. More recently, in the 1960s, the Great Train Robbers were tried at Aylesbury Crown Court, which we can often see from the basket of our hot air balloons.
Outside Aylesbury, our hot air balloons regularly fly over Waddesdon Manor, the Prime Minister's residence at Chequers, and the local villages of Stone, Waddesdon, Wendover, Aston Clinton and Whitchurch.
Whichever direction our hot air balloon ride takes us, you are guaranteed a fascinating trip - over some of the country's most beautiful scenery, bustling Buckinghamshire and Oxfordshire market towns, and wonderful rivers and farmland.
"What can I say . best birthday pressie ever! Fantastic weather, great views and excellent landing. Thanks so much."
Maria Russell & Doug Preston, Aylesbury (from our Comments book)
We invite you to come and join us for an unforgettable champagne hot air ballooning flight! Please give us a call on the number above or book online now.