Welcome! Altitude Balloons is the South East's leading balloon company, with years of experience, certified by the Civil Aviation Authority and we provide regular flights over Buckinghamshire! Buckinghamshire boasts some of the most stunning views in the country - even better when seen from the basket of a hot air balloon gently floating above the county.
From our launch site near Aylesbury and Great Missenden, you may be lucky enough to see as far as Canary Wharf in London, Milton Keynes (and the huge lion carved into the hillside above Whipsnade Zoo), and right down to Didcot and beyond. You can see vast swathes of southern and central England from our unique vantage point from a hot air balloon high above Buckinghamshire.
"Hi Ian, I wanted to say how much Russell and I enjoyed the flight, it was particularly nice to have the certificates! I felt your presentation and briefing were calming and professional, and I was particularly impressed by your attention to health and safety. I have been involved in health, safety and risk assessment for over twenty years, so paid particular attention - mostly out of habit I suppose. Well done for providing us with a real adventure and an experience of a lifetime. Many thanks & kind regards" David & Russell Evans (The Evans Aviators) (e-mail from David)
From your hot air balloon, you will be guaranteed amazing and serene views of some of the most fantastic scenery in southern England, along with bustling Buckinghamshire towns, romantic villages, winding rivers, and some of the most impressive properties and estates in the entire country - our hot air balloons often fly over Waddesdon Manor on the Buckinghamshire/ Oxfordshire border, which used to be home to the Rothschild family before it was handed over to the National Trust to become one of their most popular properties. It is an extraordinary sight from the basket of a hot air balloon! Our hot air balloons also regularly fly over Chequers, the Prime Minister's Residence to the north of High Wycombe (see photo above).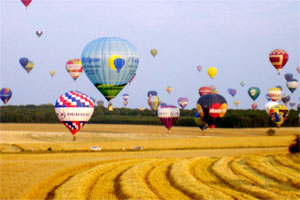 Whichever direction our hot air balloon flight takes us over Buckinghamshire, you are guaranteed a fascinating trip - on our hot air balloon flights over Buckinghamshire you may see Aylesbury, Great Missenden, High Wycombe, Stone, Waddesdon, Wendover, Aston Clinton and Whitchurch from above, laid out like a model village beneath you. One thing we can be sure of: once your hot air balloon has landed you will have magical stories to tell your friends of how you saw Buckinghamshire from above from the basket of a balloon!
"Great trip, wonderful views, seen places I've never seen before even though I'm Bucks born and bred!"
Derek Holland (from our Comments book)
Our hot air balloon flights take off from Aylesbury and Great Missenden in Buckinghamshire.
We invite you to come and join us for an unforgettable champagne hot air ballooning flight! Please give us a call on the number above or book online now.
Click here to book a VIP Champagne Hot Air Balloon Flight over Buckinghamshire
NB. Launch sites for hot air ballooning are chosen by your pilot on the day of the flight, and he will choose the safest and best launch site for the wind and weather conditions on that particular day. Flights from any particular launch site cannot be guaranteed on any particular day.