Welcome! Altitude Balloons flights will now take place with Virgin Balloon Flights, with years of experience, certified by the Civil Aviation Authority.
Please visit Virgin Balloon Flights website for a full list of locations they fly from, as this may differ from our previous launch sites.
This part of Oxfordshire boasts some of the most stunning views in the county as the Thames winds it's way through this bustling market town - even better when seen from the basket of a hot air balloon floating gently above.
Henley-on-Thames is best known because of its links to rowing through the Henley Royal Regatta. The town hosts the Henley Festival of Music and the Arts and has been used as a location for many films and TV series, in particular the Midsummer Murder series. Some of the fine houses in the area are open to the public including Stonor Park and the National Trust properties of Nuffield Place and Greys Court.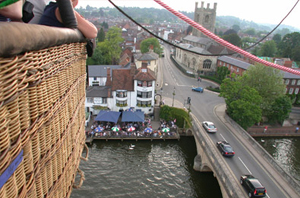 "My second time up in the balloon and every bit as magical and awesome as the first time - counting down the days for the next trip up! The feeling is quite indescribable but very very recommended. Thank you all for making it superb and safe, too."
Olivia Norman, Thame (from our Comments book)