Welcome! Altitude Balloons flights will now take place with Virgin Balloon Flights, with years of experience, certified by the Civil Aviation Authority.
Please visit Virgin Balloon Flights website for a full list of locations they fly from, as this may differ from our previous launch sites.
On hot air balloon flights over Oxfordshire (Oxon) you will see Oxford as you take off and may drift towards Thame, Bicester, Didcot or Banbury. From above they will look like a model village laid out beneath you. One thing we can be sure of: once your hot air balloon has landed you will have magical stories to tell your friends of how you saw Oxfordshire from above from the basket of a balloon!
The area around Oxford is fascinating for its history, culture, architecture, and geography, which includes some of the most breathtaking scenery in the country. The rolling hills of the
Cotswolds and the Chilterns flank the River Thames as it runs through the world-famous university town of Oxford, with its numerous architectural gems. Traditional villages dot the landscape, and there is no better way of meeting some of the friendly locals than to yell "hello!" from the basket of a hot-air balloon traveling overhead. More often than not a friendly wave is the best form of communication with those on terra firma!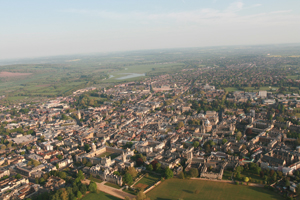 "Suddenly the wind ceased. The air seemed motionless around us. We were off, going at the speed of the air-current in which we now lived and moved. Infinitely gentle is this unfelt motion forward and upward: it seems not to be the balloon that moves, but the earth that sinks down and away..."
Alberto Santos-Dumont, 'My Air-Ships,' New York, The Century Company, 1904
The area around Oxford is steeped with history – and not just ballooning history./
This is the area that produced and shaped some of the world's most outstanding thinkers. From Sir Walter Raleigh to Dr. Samuel Johnson to Oscar Wilde to C.S. Lewis to JRR Tolkein to Michael Palin, Oxfordshire continues to shape the way we all live today. And the city of Oxford has been the location for numerous films, including Hogwart's - which is in fact Christchurch College - in the blockbuster Harry Potter movies. Inspector Morse has been seen in the area, and we regularly see John Nettles with TV crews filming the Midsomer Murders in local towns and villages. It's truly a place worth visiting, and looks breathtaking from the sky!
If you are new to the area, why not combine the excitement of a balloon ride with one of the dozens of other leisure opportunities close to hand. Maybe you would relish a relaxing trip in a punt on the Thames past famous Oxford colleges, a wander around the fantastic Victorian covered market, or a meander around some of Oxford's beautiful parks and gardens. Or if fashion is more your thing, come and feast your eyes on the amazing bargains to be had at Bicester's renowned retail outlet centre. Or visit historic Thame, with its beautiful architectural High Street lined with small boutiques selling everything under the sun.
"Fantastic - Wonderful - Amazing!! What a way to spend a Monday evening!! We so enjoyed our flight. Brilliant take-off and landing. Sorry writing really bad - still shaking (with excitement)!! Thank you so much."
Sal and Stef D'Anjer (from our Comments Book)
Your pilot will always be there to act as host, answer any questions or queries you may have, and ensure that your flight is an experience that will stay with you for many years to come.
As you drift away from Oxford in your hot air balloon, you will be guaranteed amazing and serene views of some of the most fantastic scenery in southern England, along with bustling Oxfordshire towns, romantic villages, winding rivers, and some of the most impressive properties and estates in the entire country - our hot air balloons often fly over Shotover House outside Oxford and Thame Park near Thame - both of which are an extraordinary sight from the basket of a balloon!
"A fantastic experience, and weather we organised arrived nicely. Thanks to everyone involved - we may become frequent flyers!! x"
Alison & Steve Alexander (from our Comments book)
We invite you to come and join us for an unforgettable champagne hot air ballooning flight! Please give us a call on the number above or book online now.