Welcome! Altitude Balloons is the South East's leading balloon company, certified by the Civil Aviation Authority and we're situated close to London! Come and join us for a magical few hours that you will never forget. Our flying area is a short hop up the M40, and it couldn't be easier for you to get to us. Our meeting points are just off the M40 at Great Missenden, Henley on Thames and Oxford. Why not join us and enjoy some of the most beautiful scenery in the country, right on London's doorstep.
"We came on a birthday treat and had a fantasic time. The flight was a magical experience and our pilot was great! We had so much fun, not only on the trip, but also the hilarious landing and the laugh we had being retrieved from a field in the middle of farmland! Thank you so very much once again."
Mandy Cockerill, Pauline Cockerill & Joanne Starkey (from our Comments book)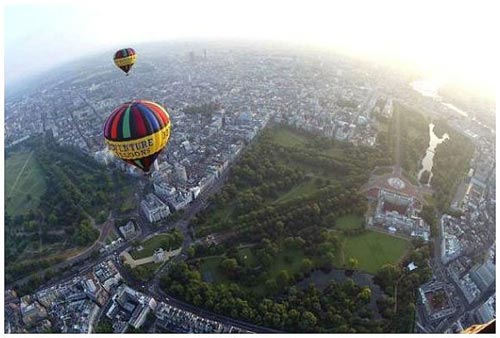 However, if your dream is to fly over London in a hot air balloon there is just one balloon company who have managed to make it possible. Adventure Balloons schedule flights over London from April to August on weekday mornings only. But do remember that these flights are very weather dependant because as well as having conditions suitable for ballooning, there is the added complication that the flights can only go ahead if the wind is in the right direction and of the right speed.